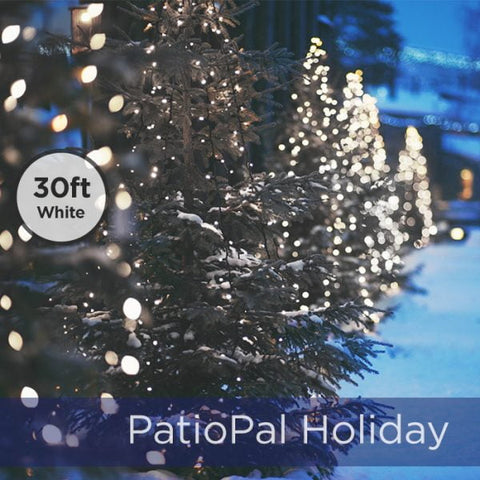 Questions?
Need Assistance?
Call Us Today:
1.800.786.0329
102 LED White Solar Holiday Christmas Lights (Alternating)
Our PatioPal 102 LED White Solar Holiday Lights are a customer favorite and bestseller. Enjoy the beauty of outdoor lighting during the holiday season without the added cost for electricity.
Powered by a high-efficiency solar panel the PatioPal Holiday Lights come on automatically at dusk and remain illuminated for 5 – 6 hours on a full days charge. Choose from one of several different
flashing modes (flashing continuous alternating and twinkling).
Components are water-proof and able to withstand inclement weather.
Uses 6V 4aH Battery (included) - This lighting kit is 3x the storage power of most solar holiday lights. This unit is designed for low light levels and northern climates.
Beyond the holidays many of our customers also use our PatioPal Holiday Lights for:
Solar RV Awning Lights
Lighting for Decks and Patios
Lighting for Anniversaries Weddings Back Yard BBQ or Social Gatherings
Features:
7 Different Flashing Modes (Flashing Continuous Alternating Twinkling)
Comes on Automatically at Dusk
Easy to Install – No Electricity or Extension Cords Required
High Efficiency Crystalline Solar Cell Panel
Remains Illuminated 5 – 12 Hours
Green Wiring Blends Into Landscape
Please Note:  Perform initial charge in ON position for a minimum of 8 hours in full direct sun. After initial charge is complete – at dusk – move switch into the "Auto" position. Product will begin to go through each flashing mode for 10-15 seconds. Move switch to "Mode" position when desired flashing mode is reached.
---
We Also Recommend