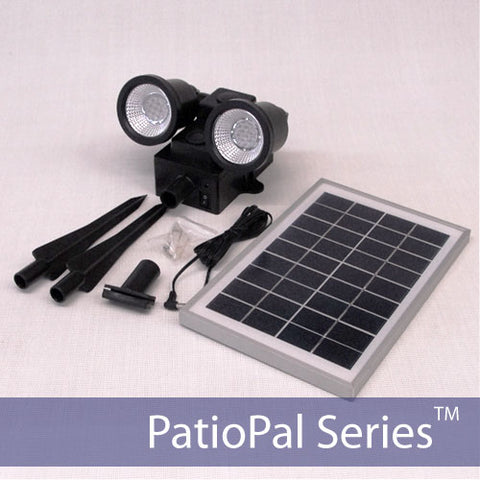 Questions?
Need Assistance?
Call Us Today:
1.800.786.0329
36-LED-Solar Spot light & Flag Light 50W With Ultra Bright LEDs
Type a description for this pro
SOLAR SPOT LIGHT & FLAG LIGHT 50W WITH ULTRA BRIGHT LEDS
Add dramatic presentation to your landscape features or sign at night with no-hassle to install, no wiring required solar spot light! The 36 LED spot light features 2 adjustable light heads (12LEDs each), a high-efficiency solar panel and 10 hours of operation every night. Mount it to the wall, a post, a flag pole or stake it into the ground – it's great for all your spotlighting needs.
Features:
36 Ultra Bright White LEDs
Light Output Equivalent: 50W
Output (Lumens): 450
Sign Illumination Area (Max): 4 ft x 8ft
Last 10 hours at night (auto dusk to dawn operation with low voltage battery disconnect). This feature allows the lights to last longer (less work on the battery).
Waterproof wire lead
Popular Applications:
Solar Flag Lighting: Most of the solar flag lights on the market are not bright enough to keep your flag illuminated during the night. This product was originally designed and developed to illuminate smaller flags (12-15ft off the ground 2 x 3 ft flag). Its easy to install and can be easily mounted directly to a flag pole using a standard pipe clamp. Operation is simple, mount the plastic fixture and plug in the solar panel. The unit is not hurricane proof, yet it will withstand "normal" weather conditions.
Tree / Shrub Lighting: If you are used to regular non-solar lighting, this is the perfect light for your shrub / up-lighting application. The unit does include a ground stake, which allows the light to be mounted anywhere you have soft soil. Maintenance is minimal, provides a cool white LED light.