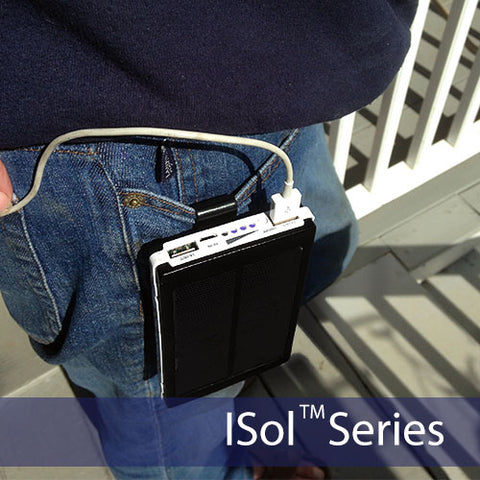 Questions?
Need Assistance?
Call Us Today:
1.800.786.0329
ISol Solar Portable Power Bank Backup Battery Charger
ISol Solar Portable Power Bank Backup Battery Charger
The new ISol 10X Series portable solar battery charger combines the industries leading solar cell technology with Li-Ion rechargeable batteries. Silicon Solar produced the very first PDA solar charge (before smart phones) and is not introducing a new line of portable mobile charging products which live up to their expectations. Why not have a power bank with a solar panel attached to it? The Isol 10X allows you to re-charge the internal battery located inside of the solar case using a standard USB port or the solar panel.
How does it work? 
The solar mobile charger re-charges the internal battery (just like your current cell phone) using single-crystalline solar cells with 18% efficiency. We use the leading solar cells and encapsulation materials to ensure the charger will withstand an active environment. Integrated charging circuit keeps the battery from being overcharged or damaged. Additionally, you can charge the battery using a standard USB cable plugged into your current mobile wall charger or computer. Smart LED indicator displays if the unit is recharging + the current capacity of the battery inside.
Which Devices will it work with? 
We have designed the Isol series to work with any mobile device which can be recharged using a standard USB power source (so iPhones, Ipads, etc). The outputs include both 1A and 2A. (What does this mean?? 1A is typically used for recharging mobile devices while a 2A charger is designed for Ipad's or larger mobile devices.)
* Important Tip: First before using this product. Ensure For this product is Full