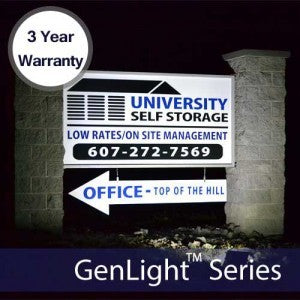 Questions?
Need Assistance?
Call Us Today:
1.800.786.0329
Solar Sign & Flood Light with 150 Watt Output / 3 Year Warranty
Type a description for this pr
GenLight 2X LED Solar Sign Light – DIY Solar Lighting Kit
The next generation of GenLight solar sign lights: now with more LEDs and a 50% larger solar panel!
Our GenLight 2X LED solar sign and flood light is the most advanced, easy-to-use, and popular commercial solar lighting system on the market today. Now in its third generation the GenLight 2X is the ideal bargain for anyone looking to light up medium to large signs or large outdoors areas without breaking the bank on installation, maintenance, and operation costs.
Since its first generation, the GenLight has proven to be one of the most reliable, efficient, and cost-effective investments available.  The GenLight 2X solar sign & flood light features a patent pending design and generates more than 150-175W of light output all night, every night. Best of all, the GenLight 2X costs $0 to install and operates 100% free!
FEATURES:
Great for lighting billboards, trees, structures, walls, large area entrances, and pathways
Compliant with most local lighting ordinances
Requires light assembly 15 minute installation
Very durable casting with durable solar panel
On/off switch (so that you can turn your product off to store energy)
Capable of lighting 15 ft x 10 ft signage
WARRANTY DETAILS:
Light Fixture: 3 Years
Solar Panel: 7 Years
Battery, Connector, Wires: 90 Days
WHEN YOU INVEST IN THE GENLIGHT 2X:
Eliminate the installation costs and hassle of your sign & flood lighting.  You'll never need a professional electrician to install your GenLight, nor will you need to trench and re-landscape over buried wire or make connections to your existing electric system.
Never pay a dime to operate your sign & flood lighting again.  Because the GenLight 2X is completely solar powered there is absolutely no monthly electric use or charge to run it – this can save you hundreds or thousands of dollars over the life of your GenLight 2X.
Never have to worry about turning your outdoor lighting on and off again.  The GenLight uses today's latest photo-eye technology to deliver 100% automatic operation – once installed your GenLight will turn on automatically every night and off to recharge every day.
You will wonder why you didn't switch to a commercial solar lighting solution sooner!
THE GENLIGHT 2XLED IS GREAT FOR:
Plus, these other popular applications:
Housing association sign light
School sign lighting
Landscape monument lighting
Flood and area lighting
Military base sign and monument lighting


EVERYTHING YOU GET WITH THE GENLIGHT 2X

Each GenLight 2X includes everything you need to install the solar light right out of the box: the GenLight 2X commercial-grade light fixture, a 15W crystalline solar panel, an internal Li-Ion battery for energy storage and all-night-long operation, and 15 feet of wire allowing you to appropriately position the solar panel and lighting fixture.  Mounting brackets are optional but recommended for secure installation, as well as optimal placement of both the solar panel and the light fixture.

And in case you were concerned the GenLight 2X is designed to withstand basic vandalism as well as stand up to some of the toughest, nastiest weather that the planet can throw at it (we use these in the middle of winter in upstate NY!).